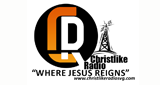 CHRISTLIKE RADIO SVG
Country:
Saint Vincent and The Grenadines
Ministry in music and the word of God.
Mark 16:15 -And he said to them, "Go into all the world and proclaim the gospel to the whole creation. Our vision here at Christlike Radio is to spread the word of GOD to this generation to inspire the world in holy living letting us know that christ is, and always will be and he is coming back.