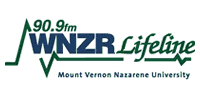 WNZR Radio
Country:
United States
WNZR is a group of people who love Jesus Christ, and want to know Him more. As a body of believers, we feel that WNZR is not just a radio station, it is a ministry. We take this calling seriously, and strive to live our lives as we feel Jesus would.
Our Theme Verse: Trust in the Lord with all your heart and lean not on your own understanding; in all your ways acknowledge him, he will make your paths straight. — Proverbs 3:5-6 (NIV)
Come listen and learn with us at the Lifeline, WNZR.