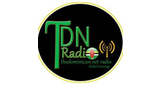 Tdn Radio
TDN Radio is about our culture, people and music. We look forward to every day working hard to keep our listeners informed and entertained while promoting our Caribbean/African artists, our culture, music and people.
Spreading our culture, keeping it alive in the hearts of those of us who reside outside the islands is important lest we forget where we came from.
This is a non-profit project with some great patriotic volunteers dedicated to this mission, we appreciate you so much for staying tuned every week, we hope we're part of what makes your day wonderful.